The recent storms that ravaged the Charlotte, NC, area left behind a huge path of devastation and extensive damage. As our neighbors continue to clean up after the mess, many are finding more storm damage than they initially suspected. Calling a restoration professional is key to getting back to normal as fast as possible.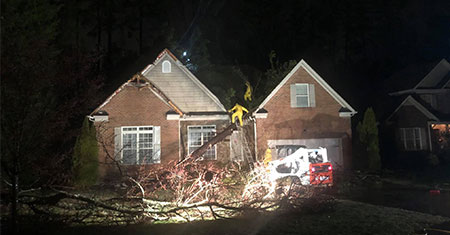 Common Storm Damage Repair & Restoration Services
Tree & Debris Removal

Temporary Board Up & Roof Tarping

Roof Repairs

Siding & Gutter Repair

Water Removal

Basement Flooding Repair

Dry Outs

Structural Repairs
Cleaning up after a storm can be dangerous and frustrating if you don't have the right equipment or training. Avoid the headaches, and call a professional restoration company like Providence Restoration ASAP. Their storm damage response team is standing by 24/7.
Also, bear in mind that most insurance companies require homeowners to seek help from a professional, licensed restoration company when a claim is involved. Their goal is to make sure the storm damage restoration work is done quickly, efficiently and completely. Often when property owners attempt DIY restoration, they tend to not notice the actual extent of the damage. Weeks or even months down the line, more repairs could be needed because of gradual damage, but the insurance policy won't cover that anymore.
Always serving, Providence is proud to be neighbors helping neighbors, especially after a severe weather event like the one we experienced. Don't hesitate to reach out if you need help with your storm and tornado damage restoration. Call us today!